Commercial Construction & Interiors
Broadsword Group undertake various construction packages across multiple industry sectors. We have successfully completed contracts within the Commercial, Residential, Leisure, Education, Defence, Office & Retail sectors. Our extensive knowledge and expertise, combined with a commitment to delivering quality projects on time and on budget has enabled us to establish solid working relationships with some of the countries most respected contractors and developers.
Broadsword Projects have become experts through experience. You can rely on us because we have delivered time and time again. Our expertise and industry knowledge ensure all clients receive a high level of performance from conception through to completion.
Our specialist residential team focus on projects across the southern counties. Our  knowledge and expertise in this sector combined with our commitment to quality has enabled us to secure and complete a wide range of developments for some of the countries largest home builders.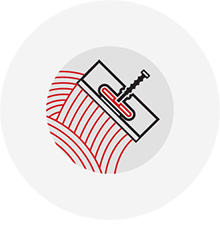 Our independent screeding department has the ability to cope with a broad spectrum of projects working concurrently nationwide.
We specialise in both the residential and commercial sectors, assisting with projects that range from a single housing plot to multi million pound commercial developments.
Does your business need to re-fit or re-decorate existing office space? Perhaps more staff need to be accommodated into the same space? Our Interiors division is an experienced and skilled team that turn office layout challenges into rapid, high quality, finished solutions.